The Peak District - Industrial Landscapes

Perhaps the oldest Peak District industry was the production of querns - simple hand powered grindstones - by quarrying gritstone edges. These are known from sites near Stocksbridge and probably date back 2,500 to 3,000 years, but were probably only traded locally.
Lead mining in Roman times, 2,000 years ago, created trade connections between the area and the rest of the world which persisted into the mid 20th century. Today much of the southern Peak still bears the scars of mining and smelting lead.
When water and wind powered mills were developed in the middle ages, grit was quarried and fashioned into millstones. These were shipped throughout England, and sometimes beyond. Millstone quarries and part finished millstones are perhaps the most easily found archaeological remains in the area, and are the symbol of the Peak Park.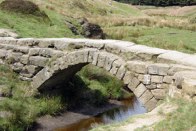 Until the 18th century, wheeled transport was a rarity in the Peak. The heaviest loads would be pulled on sleds and everything else had to be carried by man or horse. The traditional routes on the steepest ground were developed into deep channels by wear and quarrying; they can be seen on many hill sides today. Navigation was helped by stone pillars - locally called "stoops" - placed at prominent points and crossroads; in addition, wooden posts served the same purpose, with the remaining examples maintained on the Longshaw estate and the track up to Stanage Edge. The 18th century saw the creation of a turnpikes - the basis of our modern road system . The building of the railways in the 19th century led to the full integration of the Peak into the national economy.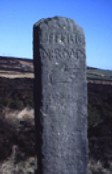 Between 1850 and 1950 demand for clean water for both domestic and industrial use grew rapidly. Upland areas such as the Peak provided both catchment and storage in reservoirs, and caused considerable local upheaval as dams were built and valleys flooded.
The biggest impact has been from limestone quarrying. Around 20 million tons of limestone are quarried each year for cement making, road & building fills and a variety of lesser uses. Much of the area east of Buxton and south of Castleton has been devastated by quarrying and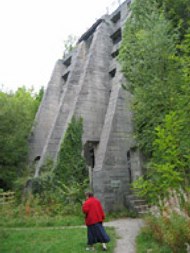 disfigured by cement works chimneys . On the other hand, limestone extraction provides valuable jobs in an area where there are few other employers. A cause for concern by conservationists in was plans to extend quarries on the edges of Stanton Moor which will bite into Bronze Age field systems and wildlife habitats and to greatly extend the quarries above Hassop, but this scheme has finally been stopped by a combination of direct action and the National Park planners.
Links in the left margin develop these themes more fully.